We have all seen the effects of aging infrastructure on everything from highways and bridges to kitchens and bathrooms in our homes. Eventually, things get to a point that either they no longer function or they become unreliable and unattractive. While Grace Church retains much of its beauty in the sanctuary, the rest of the facility has become an impediment to realizing our potential in God's plans for Grace Church in Muskogee Oklahoma.
This page will walk you through the major areas of improvement In a straightforward "problem-solution" format. Fortunately all of the problems we have can be solved and Grace Church will be in an excellent position to grow. The architectural and engineering solutions planned are very solid and will anchor Grace Church as a pillar of the Muskogee Community and as an example of the best things the Episcopal Church has to offer.
WE ARE EXCITED ABOUT THE FUTURE AND WE INVITE YOU TO HELP US MAKE THESE DREAMS A REALITY.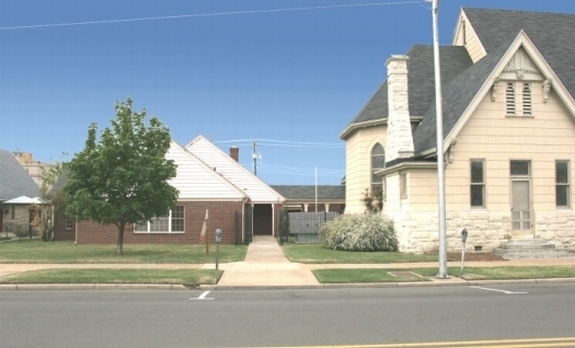 Current north view
PROBLEM: There is no drop off point for children, families, seniors, and people with disabilities.
SOLUTION: Convert Court street side to a circle drive entrance.
PROBLEM: An examination of the exterior of the church, parish hall and other buildings shows four different and incompatible architectural styles. There is a lot of exposed wiring on many exterior surfaces, and the overhead utilities outside the south wall of the parish hall are unsightly and unsafe.
SOLUTION: Apply a consistent treatment to all the buildings (except the Bixby Chapel). The native Oklahoma sandstone around the foundation and entrance of the church will be sandblasted to reveal natural stone. Matching stone will replace them, giving an attractive and consistent appearance. Re-wiring of the facility will correct all of the exposed wiring. Moving the utilities underground will not only
PROBLEM: Four generations of remodel projects have left a great deal of wiring on the exterior. Some is deteriorated and unsafe. Some original 1910 vintage wiring is still in use.
SOLUTION: Wiring for entire campus will be replaced, thereby improving safety and appearance.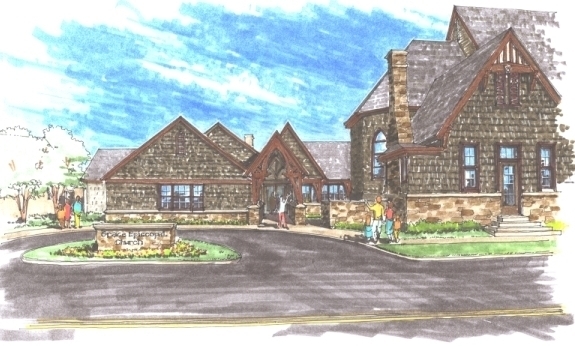 This diagram shows the renovated north view.
Note the new circle drive.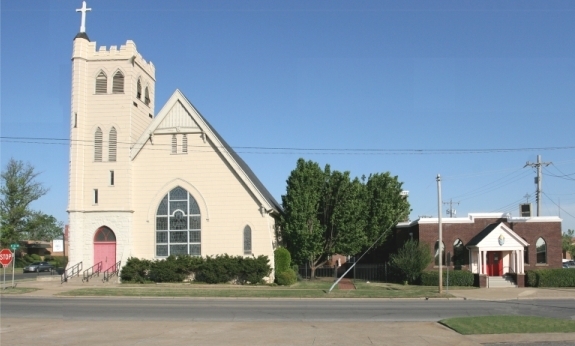 Current west view
PROBLEM: Leaky flat roof allowed mold to form inside parish hall. Asbestos found there also.
SOLUTION: Remove mold and asbestos with proper environmental precautions. Install pitched roof to match pitch of church roof. (This roof unifies the appearance as well.)
PROBLEM: People flow through the existing facility is awkward and disruptive. Taking a toddler to the restroom during Sunday services requires walking all the way up front and out the side door. The facility does not meet access requirements for people with disabilities.
SOLUTION: Connect the various wings with breezeways. Install proper signage directing people to restrooms, nurseries, classrooms, etc. In the process, we will make the entire facility handicap accessible.
PROBLEM: Roofs on the parish buildings and the parking lots contribute to impervious surface runoff, creating logistical and environmental problems in rainy weather.
SOLUTION: Connect all roof drains and south parking lot drains so they flow into a rain garden next to Broadway Street. The rain garden will percolate and filter the runoff and reduce local flooding and degradation of streams and waterways. Improve parking lot safety and lighting.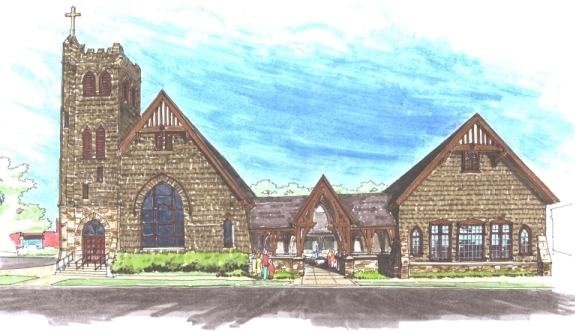 This diagram shows the renovation from a west view.
Note the breezeway.
Current south view
PROBLEM: Kitchen does not meet current health and safety requirements, and yet the demand for feeding programs continues to grow.
SOLUTION: Remodel kitchen to meet modern standards while restoring existing commercial appliances whenever possible.
PROBLEM: Parking lots are unsafe, unattractive and tend to separate rather than connect the church to the wider community. There are no signs identifying the lots as part of the church.
SOLUTION: Remodel the parking lots and lighting. Include room for a large, readable sign consistent with the exterior appearance of the church.
PROBLEM: Utility costs are expected to increase greatly. Grace Church has numerous air conditioning compressors which are unsightly, consume space, and are expensive to operate.
SOLUTION: Before renovating the parking lots, drill geothermal wells in the parking lots and use geothermal to reduce heating and air conditioning costs by 50-80%. These systems are more expensive than conventional approaches, but will pay for themselves within 5-7 years at current utility rates. The new Environmental Ministry team at Grace Church believes that not only does building green make sense-, it will attract many people to the first church in Oklahoma to rely upon geothermal energy. God gives us the earth. We need to use it wisely and as good stewards.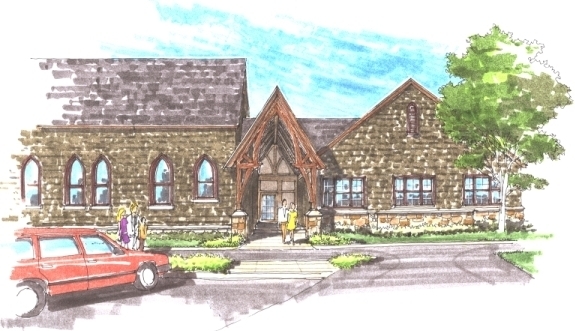 This diagram shows the renovation from a south view.
Note the lack of overhead utility poles.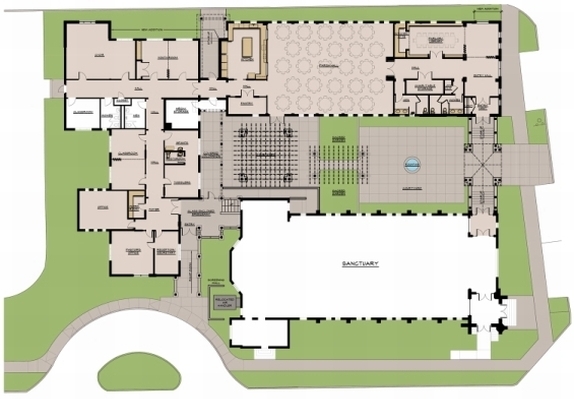 Proposed Floor Plan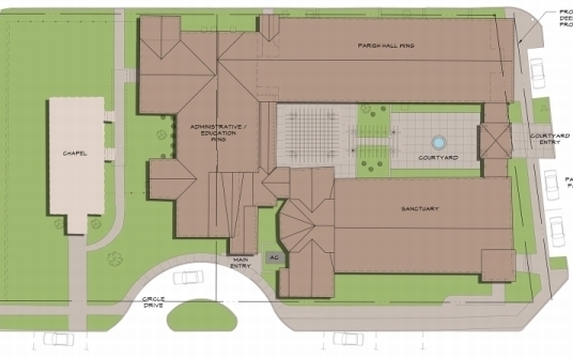 Proposed Site Plan
IN SUMMARY:
We can feel the Spirit moving through this place, which is our Worship Home. With your help, Grace Church can fulfill the plans God has made for us. Muskogee is a great place to live, and Grace Church has much to offer this city. Your pledge to this building project blesses you because of your generous spirit, and it will bless many people for years to come. Thank you for your prayerful consideration.