"All guests who present themselves are to be welcomed as Christ himself." – St. Benedict
St. Benedict was right. The church isn't a private club for the chosen few; rather, our doors and our hearts are open for everyone and to everyone. We strive to welcome each person who comes our way as we would welcome Jesus, for God often comes to us in the appearance of a stranger.
Our faith community is a joyful mix of people with differing backgrounds and perspectives, united together in a common love of God and a love for our neighbors. Chances are, there's someone like you at Grace. We are single, married, married with kids, divorced, remarried, empty-nesters, widowed, gay, lesbian, transgendered, old, young – you name it, we are here. We are "young in the faith": just beginning to ask questions, "teens in the faith": just now piecing together who we are and what it means to follow the Lord, "maturing in the faith": exploring our gifts and serving others for the Lord, and "mature in the faith": reflecting on what we have been and done as we look back on our lives in our winter season of grace.
There is someone like you at Grace!
People of all backgrounds, races, abilities, and beliefs are part of the Grace family. Our welcome doesn't end at the door of the church. All persons are welcome to receive the Sacrament of Holy Communion at Grace, not just Episcopalians – everyone. Join us at the Lord's Table this Sunday.
We gather for worship at 8:30 am and 10:30 am on Sunday morning, 9:30 am in the summer. Nursery Care is available from 9:15 am to noon.
Click here for our map, and for written driving directions
Feel free to contact us by email for more information. We look forward to greeting you at Grace this Sunday!
Brick Orders
You can order a brick to commemorate your pets, children's graduation, weddings, memorials, and special recognitions. We can take orders all year long then install the bricks the following summer.
Our corporate worship is centered on celebrating Holy Communion and Holy Scripture. We have two Sunday services, a Rite I service without music, and a Rite II service with organ and choir. During the summer months, there is one combined Rite II service with organ but no choir. Our liturgy and music tend to be more traditional Episcopal and Anglican; however, we occasionally enjoy music from other Christian traditions. All baptized Christians, including children, are welcomed at Communion.
The Rector is usually assisted by one of our two Deacons, by our Lectors and Lay Eucharistic Ministers, and of course our active corps of Acolytes. Worship is enhanced by our talented organist who also directs the faithful members of a four-part choir. We are especially proud of our two-manual Austin organ which was originally installed in 1960, and has recently been refurbished. A small bell choir performs for special services during the Christmas season. Fellowship is shared after the services at Coffee Hour, and in months with five Sundays, a Fifth-Sunday Potluck.

The word liturgy means the work of the people and worship is the work of the people. Lay people of all ages and skills participate in worship at Grace Church. The following gives an introduction to each of the participants in making our Sunday gatherings holy and sacred.
Acolytes
Acolytes carry the cross, torches, and banners in procession and assist the ordained ministers at the altar. Training is required and is offered twice a year. Grace Church encourages aspiring members to be familiar with Episcopal liturgy or to reside in the congregation for at least one year.
For more information, e-mail the Acolyte Coordinator.
Lay Readers (Lectors)
Lay readers (or lectors) read the Old and New Testament lessons at the Sunday morning liturgies, and other special readings such as the Passion Gospel during Holy Week. A strong, articulate voice is required. Training is provided annually.
Lay Eucharistic Ministers
Lay Eucharistic Ministers wear vestments, take part in the processional in the liturgy, and serve at the altar rail or other communion stations. Typically they administer the chalice while the rector and a deacon administer the bread.
For more information on Lay Readers and Eucharistic Ministers, e-mail the Rector or call the office at 918-687-5416.
Altar Guild
The Altar Guild is a volunteer group of the parish whose ministry is to care for the altar, vestments, vessels, and altar linens of the parish. Altar Guild members prepare the sanctuary for services, and clean up afterwards. Altar Guild members also supervise the decoration of the altar with flowers.
For more information, e-mail the Head of the Altar Guild.
Choir
Our choir meets every Wednesday at 7:00 pm for rehearsals (no audition needed) and sings at the 10:30 service every Sunday, as well as at special liturgies and concerts. Read more about our music and listen to samples here.
For more information about joining the Grace Church Choir, contact the Choir Director.
Clergy
Priests and Deacons are ordained to serve congregations. Priests celebrate the Eucharist and other sacraments. Deacons proclaim the Gospel, lead the prayers of the people, and lead the congregation in pastoral care and outreach to the community. The rector of a congregation must be a priest or a bishop.
Bishops, priests, and deacons in the Episcopal Church may marry and they may be women. The freedom for clergy in the Episcopal Church to serve God and their congregations while living the way God created them is an enormous gift to the church.
We have all seen the effects of aging infrastructure on everything from highways and bridges to kitchens and bathrooms in our homes. Eventually, things get to a point that either they no longer function or they become unreliable and unattractive. While Grace Church retains much of its beauty in the sanctuary, the rest of the facility has become an impediment to realizing our potential in God's plans for Grace Church in Muskogee Oklahoma.
This page will walk you through the major areas of improvement In a straightforward "problem-solution" format. Fortunately all of the problems we have can be solved and Grace Church will be in an excellent position to grow. The architectural and engineering solutions planned are very solid and will anchor Grace Church as a pillar of the Muskogee Community and as an example of the best things the Episcopal Church has to offer.
WE ARE EXCITED ABOUT THE FUTURE AND WE INVITE YOU TO HELP US MAKE THESE DREAMS A REALITY.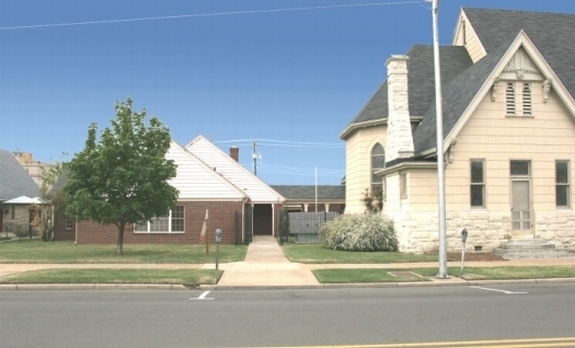 Current north view
PROBLEM: There is no drop off point for children, families, seniors, and people with disabilities.
SOLUTION: Convert Court street side to a circle drive entrance.
PROBLEM: An examination of the exterior of the church, parish hall and other buildings shows four different and incompatible architectural styles. There is a lot of exposed wiring on many exterior surfaces, and the overhead utilities outside the south wall of the parish hall are unsightly and unsafe.
SOLUTION: Apply a consistent treatment to all the buildings (except the Bixby Chapel). The native Oklahoma sandstone around the foundation and entrance of the church will be sandblasted to reveal natural stone. Matching stone will replace them, giving an attractive and consistent appearance. Re-wiring of the facility will correct all of the exposed wiring. Moving the utilities underground will not only
PROBLEM: Four generations of remodel projects have left a great deal of wiring on the exterior. Some is deteriorated and unsafe. Some original 1910 vintage wiring is still in use.
SOLUTION: Wiring for entire campus will be replaced, thereby improving safety and appearance.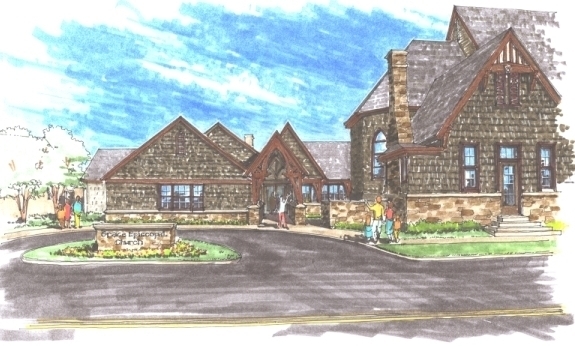 This diagram shows the renovated north view.
Note the new circle drive.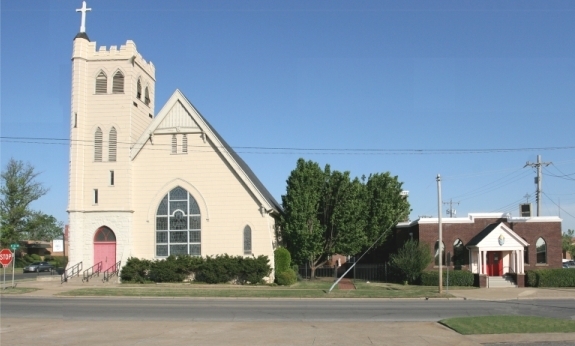 Current west view
PROBLEM: Leaky flat roof allowed mold to form inside parish hall. Asbestos found there also.
SOLUTION: Remove mold and asbestos with proper environmental precautions. Install pitched roof to match pitch of church roof. (This roof unifies the appearance as well.)
PROBLEM: People flow through the existing facility is awkward and disruptive. Taking a toddler to the restroom during Sunday services requires walking all the way up front and out the side door. The facility does not meet access requirements for people with disabilities.
SOLUTION: Connect the various wings with breezeways. Install proper signage directing people to restrooms, nurseries, classrooms, etc. In the process, we will make the entire facility handicap accessible.
PROBLEM: Roofs on the parish buildings and the parking lots contribute to impervious surface runoff, creating logistical and environmental problems in rainy weather.
SOLUTION: Connect all roof drains and south parking lot drains so they flow into a rain garden next to Broadway Street. The rain garden will percolate and filter the runoff and reduce local flooding and degradation of streams and waterways. Improve parking lot safety and lighting.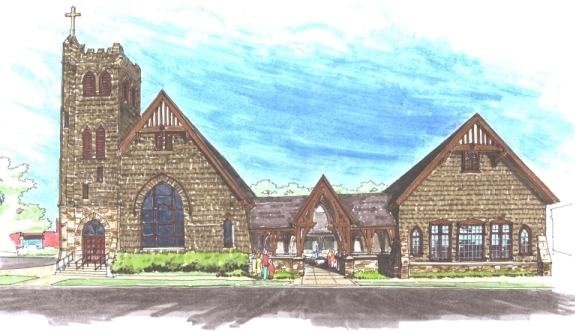 This diagram shows the renovation from a west view.
Note the breezeway.
Current south view
PROBLEM: Kitchen does not meet current health and safety requirements, and yet the demand for feeding programs continues to grow.
SOLUTION: Remodel kitchen to meet modern standards while restoring existing commercial appliances whenever possible.
PROBLEM: Parking lots are unsafe, unattractive and tend to separate rather than connect the church to the wider community. There are no signs identifying the lots as part of the church.
SOLUTION: Remodel the parking lots and lighting. Include room for a large, readable sign consistent with the exterior appearance of the church.
PROBLEM: Utility costs are expected to increase greatly. Grace Church has numerous air conditioning compressors which are unsightly, consume space, and are expensive to operate.
SOLUTION: Before renovating the parking lots, drill geothermal wells in the parking lots and use geothermal to reduce heating and air conditioning costs by 50-80%. These systems are more expensive than conventional approaches, but will pay for themselves within 5-7 years at current utility rates. The new Environmental Ministry team at Grace Church believes that not only does building green make sense-, it will attract many people to the first church in Oklahoma to rely upon geothermal energy. God gives us the earth. We need to use it wisely and as good stewards.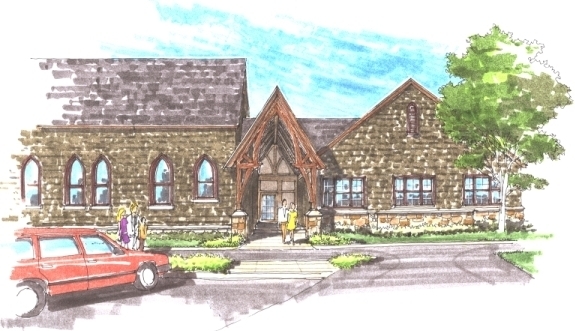 This diagram shows the renovation from a south view.
Note the lack of overhead utility poles.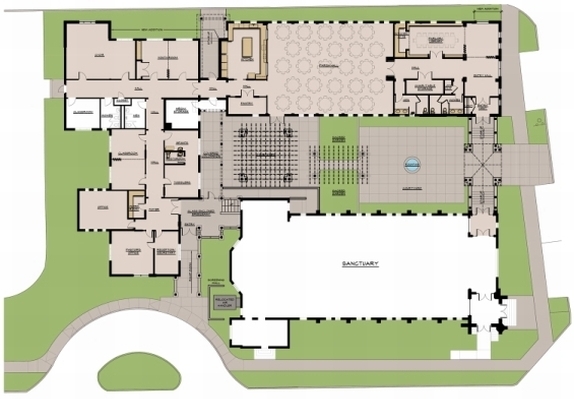 Proposed Floor Plan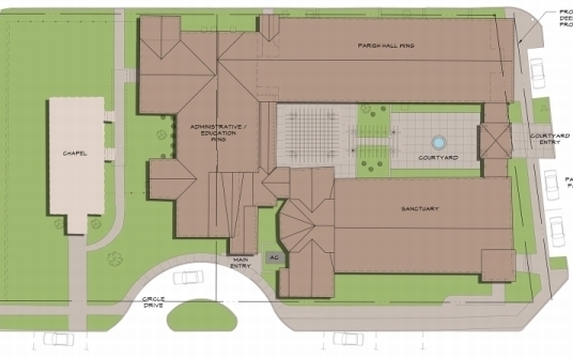 Proposed Site Plan
IN SUMMARY:
We can feel the Spirit moving through this place, which is our Worship Home. With your help, Grace Church can fulfill the plans God has made for us. Muskogee is a great place to live, and Grace Church has much to offer this city. Your pledge to this building project blesses you because of your generous spirit, and it will bless many people for years to come. Thank you for your prayerful consideration.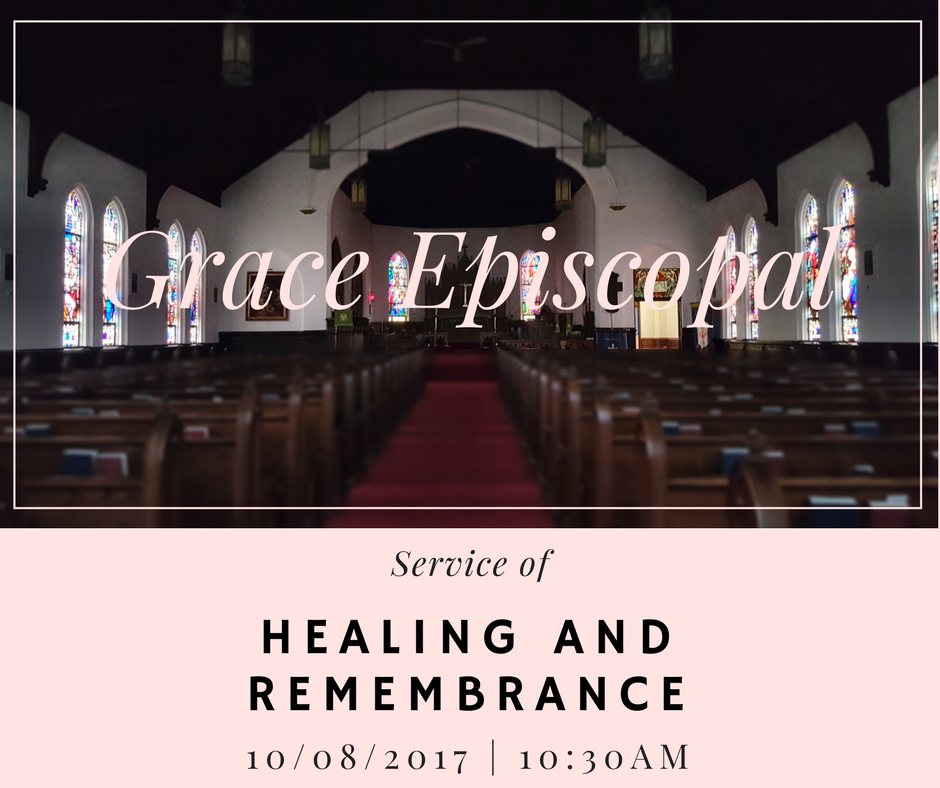 These articles are taken from the Rector's columns in Weekly Grace email blasts.
The Weely Grace General Blog addresses issues of church, culture and faith.
The Science and Technology Blog contains columns from the end of the Weekly Grace emails working with current topics in science and technology along their intersection with matters of faith and morals.
A third Recent Sermons contains sermons preached in the past ninety days.
While Fr. Bob is on sabbatical, he will be keeping us up to date through his Sabbatical Blog.
As people of faith, we are called to be grateful for all the blessings we experience in our lives. We are called to acknowledge that everything we have is a gift from God. Each and every day we can be thankful for our friends, families, financial resources, and this fragile earth.
And because God has been so generous to us, we are called to be generous as well. Generous with our time, our talent, and our treasure. Grace Church provides one opportunity for us to be generous and to support God's work in the world. Through our stewardship pledge to Grace Church, we respond to God's generosity and we will be supporting important ministries in Muskogee, Oklahoma, and the world.
Please consider a pledge that reflects your standard of living. Proportional giving and even tithing 10% of your income is a standard in the Judeo-Christian heritage.
It is a way to acknowledge God's blessings, transform the community and transform your life. People just beginning to develop the spiritual discipline of tithing often start with a smaller portion and build up year by year to 10%. Tithing in this way will change your life as well as others.
Your stewardship pledge can be paid weekly, monthly, or annually. Grace Church gratefully accepts cash, check, or direct debit payments. You may give online through the form here. Your commitment of a definite amount helps you set your priorities and helps the parish plan a budget.
Please join your family at Grace Church by making a generous pledge to the 2011 Stewardship Ministry. Join us in practicing gratitude and generosity. Join us in changing lives.