It's not just coffee! After every Sunday Service, members of the congregation head over to the Parish Hall to enjoy fellowship, food, and fun. Some members occasionally sign up to host a special coffee hour, which has included a variety of treats such as egg casseroles, donuts, cinnamon roles, egg and ham cups, pulled pork, brisket, potato salad, fried fish, smoked coleslaw, cake, pie, baked ham, and just about anything you can imagine. As a welcoming Church community, we often even have visitors that are not members of the Church that just want to join in for the positive fellowship and delicious food! On special occasions, some of our Coffee Hour Hosts have even treated us to Mimosas and/or a Bloody Mary Bar (we've even got non-alcoholic versions for the kids).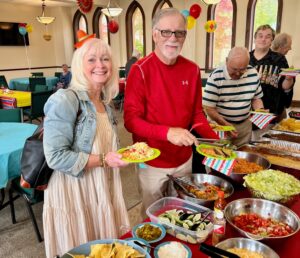 If you attend Grace for the first time, or are even just thinking about it – don't hesitate to join us for one of our famous Coffee Hours! All are welcome!
Anyone is permitted (and even encouraged) to bring a special dish of their own to Coffee Hour. If you're looking for some ideas of what you might want to bring (if anything at all), check out the link to our legendary cookbook, "Before Meals," by clicking on the picture of the cover page below!